HELLESPONT SHIP MANAGEMENT GMBH & CO. KG
Putting a Premium on Safety and Environmental Protection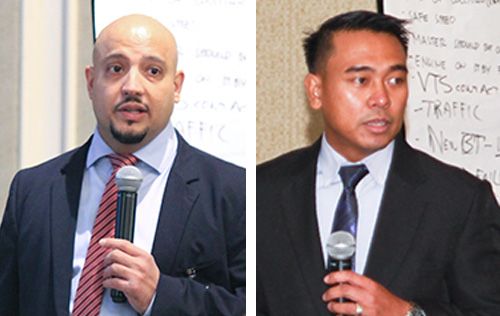 Hellespont Ship Management GmbH & Co. KG (HSM), a growing global provider of marine transportation services, together with Manila Shipmanagement and Manning, Inc. (MANSHIP), continue to put safety training and environmental awareness to the fore as it held its 14th Mariners' Conference last 30 November and 01 December 2016 at the Makati Diamond Residences in Manila, Philippines.
HSM, through its crewing partner, MANSHIP, gathered 70 of its off-duty mariners to attend the conference, whose ultimate objective is to heighten the need for safety and environmental awareness among mariners. The conference was the second HSM held this year and is already the 14th conference it has held in partnership with MANSHIP. Among the participants were mariners from Scorpio Ship Management, whose some vessels are being managed by HSM. "We did it twice this year because of the increasing number of new crew," HSM Marine Director/ Company Security Officer/ Designated Person Ashore, Capt. Sam Dadachanji explained. "The most important thing is the training of our mariners. So, whatever it takes to prepare them in their shipboard assignment, it will be done," he added.
The pool of HSM mariners increased this year due to its expanding fleet. "We took management of additional bulkers. These additional bulkers brought the total of HSM-managed vessels to 26, most of which are manned by Filipino crew. "We don't have any other nationalities onboard in our tankers and bulk carriers.We have a lot of faith in our manning agency – MANSHIP, in providing us with qualified and highly-trained crew," Capt. Dadachanji said, explaining HSM's decision to employ Filipino mariners only.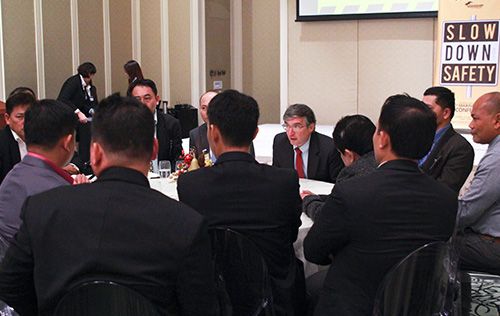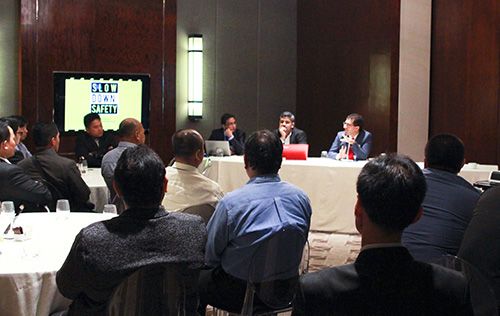 Over and above, Capt. Dadachanji expounded the conference's theme – Slow Down for Safety, saying "we want to remind our mariners that they have to stop and think about their jobs so that they can do their jobs safely. Basically to take one step back before doing their jobs to avoid any accidents and incidents."
During the conference, the participants had an interactive discussion on various incident case studies. Capt. Dadachanji presented several scenarios and solicited the evaluation of the root causes of each incident from the participants.
Protecting the environment
On the other hand, Chief Engineer Kreskin Solda, HSM's Technical Superintendent & Environmental Compliance Officer (ECO) emphasized the need of the crew to comply with the company's strict environmental regulations always. "CE Solda's job as an ECO is to monitor the company's environmental compliance. He is also in charge of anything related with MARPOL and one of his major tasks is to train the ship staff properly regarding environmental protection and preservation. HSM was among the first to be granted with ISO 14001:2015 Certification and C/E Solda's position isn't really a requirement for such certification."When asked about putting up the position, Capt. Dadadachanji noted, "it is something extra from the company." Towards the end of the conference, the participants were divided into four groups. Each group were then sub-divided by Engine and Deck Departments. The objective was to have an intimate discussion with the mariners about the issues and concerns onboard. HSM and Scorpio officials involved in management, operations, and crewing took turns in sitting with each group to discuss and gather as much feedback from the participants. "We take the feedback about real problems onboard from our mariners. We take note of them and we try to address them. Because of these discussions, we have improved a lot over the years," Capt. Dadachanji concluded.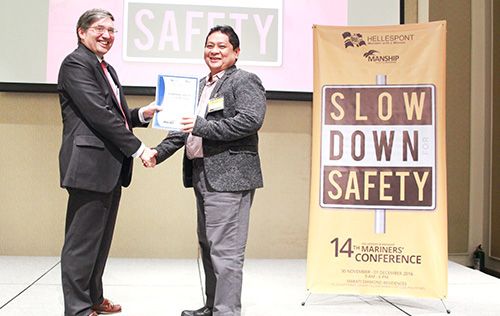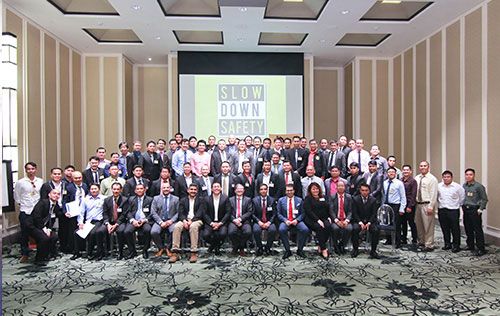 Aside from Capt. Dadachanji, other officials who came to speak at the conference included HSM's Crewing Manager, Ms. Eleftheria Krystalli; HSM's Managing Director, Dr. Michael Kennedy; Scorpio's Senior Crewing Manager, Mr. Marco Innocentini; Scorpio's Superintendent – SECAT, Capt. Samir Panigrahi; Scorpio Tankers' Owner's Representative/Operations, Capt. Rajesh Chava; Maritime Technical International Network's Regional Account Manager in Asia, Mr. Nicholas Roe; and the Vice President, CTO & Lead Technical Consultant of MANSHIP Maritime Training Center, Capt. Albert Bartilad.
View Photos
Published: January 2017